Cloud Solutions - Do Cloud Better.
We are a cloud solutions company. That might sound over-simplified, but it's cleaner than a long list of descriptors. And we like to keep things simple. So let's start with a question: What would the perfect cloud solution look like for your company? We answer that question with a collaborative explosion of technical know-how, development skills, and operational experience to bring you innovative solutions that deliver value.
But what makes these solutions valuable?
Optimizing your cloud services:
Lowers operational costs by providing visibility into where you are spending.
Frees up your best developers by automating processes.
Allows you to spend more time focusing on your core business.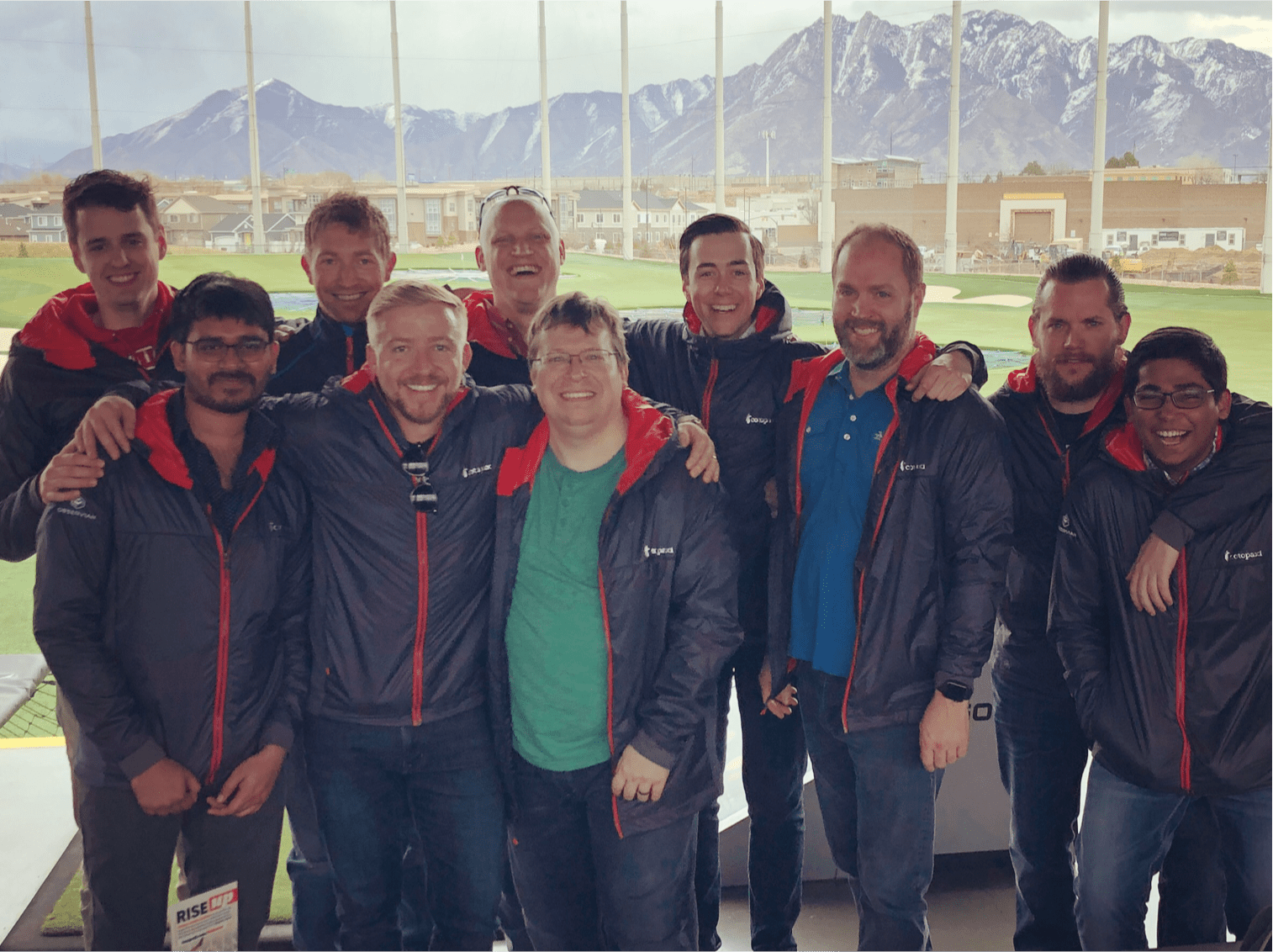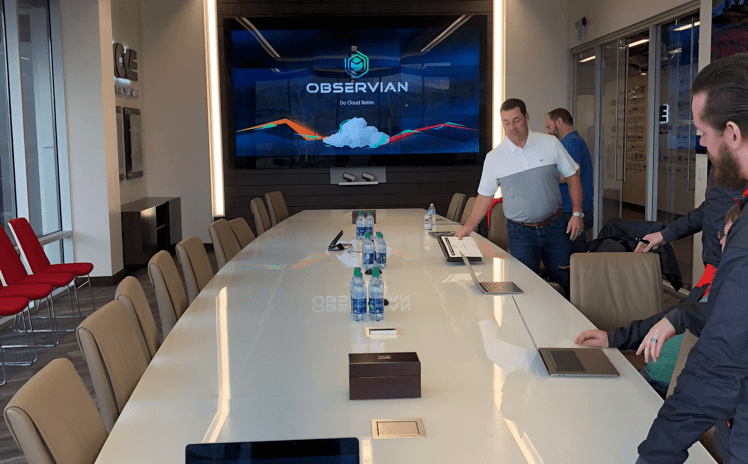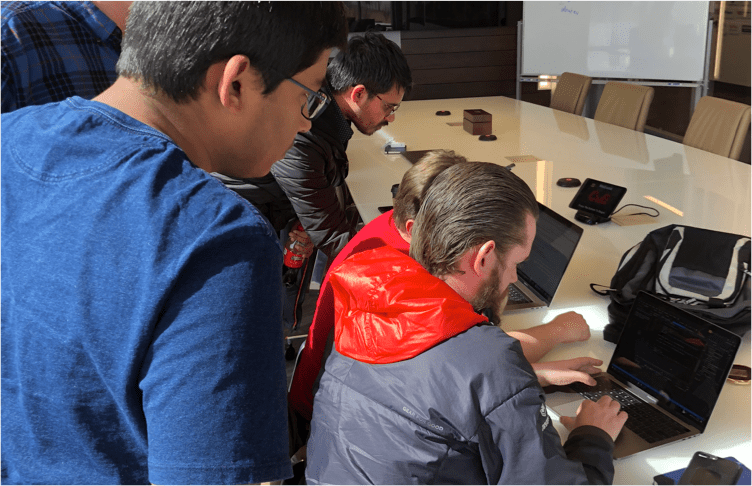 Our Minds are in the Cloud.
The Observian team is comprised of thought leaders and technical gurus who share a common vision that cloud computing is changing the world and that Amazon and Microsoft are leading that charge. With new technologies being developed every day to compliment AWS and Azure, someone needs to keep their fingers on the pulse. With our minds in the cloud, and with certifications to back up our collective experience, our team is providing customers with the most useful cloud solutions, services, and architecture. We can help you too.
Amazon Certifications
Developer - Associate

DevOps Engineer - Professional
Microsoft Certifications
Architecting Microsoft Azure Solutions
Jason Knott
VP Product & Marketing
I'm a creative who also loves to code. My career started in software engineering but I also began to develop a passion for design after seeing what it can bring to products and services. Aside from work, I love spending time with my wife Libby, my dog Tilly and my cat Chuchu.
Google Certifications
Professional Data Engineer
Justin Donohoo
CTO
I was born with a keyboard in my hand. I've been coding for 20+ years. I grew up in the start-up scene having multiple successful exits. I'm passionate about helping businesses transform their Dev Culture, which sets them up to do Engineering at scale. When I'm not in the cloud / coding space, you will find me gaming or mining crypto. If you are one of my kids you can twist my arm to get me outside and even maybe possibly playing sportsball.
Amazon Certifications
Solutions Architect - Associate

Solutions Architect - Professional

SysOps Administrator - Associate

Security - Specialist

DevOps Engineer - Professional

Advanced Networking - Specialty

Developer - Associate

Cloud Practitioner
Google Certifications
Associate Cloud Engineer

G Suite Administrator
Scott Plamondon
VP Architecture
They call me Griswold. I'm a young guy with an old man's soul. Frank Sinatra? Yes Please! I have a background in cloud security & compliance, particularly in enterprise financial services and healthcare industries. I'm passionate about automation, security, architecture, and infrastructure as code. I love decoupling complex ideas to help companies see the big picture. You'll find me golfing or hiking during the summer and snowboarding or skiing during the winter. I'm a total aviation nerd and spend more time than I'll admit playing flight simulators or flying. I have one goldendoodle fur child named Jackson with another on the way.
Mark Laub
VP Business Operations & CVE Ambassador
I'm excited to bring this new energy into the Cache Valley Electric family. I'm a technology enthusiast and love seeing how modern architectures can transform enterprise businesses for the better. When i'm not trying to climb to the cloud, I enjoy spending time with my two malamutes Mia and Bentley.
Amazon Certifications
Solutions Architect - Associate

Developer - Associate
Dan Taylor
Solutions Architect
BS Computer Science - BYUI. Father of four. Interested in Cloud and all things automated. Always on the lookout for the next hot scone. I once made an automated doorbell from a netduino that played the Price is Right theme song, sometimes I watch movies, and how come Zelda is so awesome.
Amazon Certifications
Solutions Architect - Associate

Solutions Architect - Professional

SysOps Administrator - Associate
Google Certifications
Associate Cloud Engineer

Professional Cloud Architect
Aravind Marthineni
Solutions Architect Associate
Ever curious techno geek who strongly believes that its all about asking the right questions. I come from a background in change control process in those nasty huge data centers and I think no one has the right to enjoy cloud more than the change control guys. I am all about cloud orchestration/automation heading serverless way. Cricket is my religion and cooking is my way of meditation.
Chad Gardner
Executive VP - General Manager
I am a software executive with over 25 years of building enterprise software companies. I have created strategic partnerships, managed operations and finance, and built and managed sales organizations. When I am not working, you will find me with my wife, children or grandchildren, on a golf course or working with youth to create the next generation of good people.
Google Certifications
G Suite

G Suite: Deployment Services Specialist

G Suite Administrator Fundamentals

Google Maps Platform Fundamentals

GCP Professional Cloud Architect

GCP Associate Cloud Engineer

GCP Professional Collaboration Engineer
Ryan Allred
Associate Cloud Engineer
I began my journey in accounting and quickly learned it just wasn't nerdy enough for me. I decided to look upwards for answers and before me appeared the cloud. I haven't had a boring day since. I am good at soccer and even better at watching it My skills really shine when I am spending time with my beautiful wife and darling daughter. If you're up at 4am like me, we should hang out.
Amazon Certifications
Big Data - Speciality

Solutions Architect - Associate

Developer - Associate
Nick Pope
Cloud Engineer
I am a former healthcare guy turned software engineer. I have a background in Cloud and Big Data. I enjoy solving all kinds of problems and I am always on the lookout for better solutions to those problems. Outside of work, I spend my time playing with my dogs, riding motorcycles, snowboarding, golfing, hiking, camping and enjoying the outdoors.
Shane Berg
VP Business Development
I enjoy working with experienced and skilled teams to help transform their business by leveraging the best of breed, next generation technology that enables their business to be the market leader. Perfecting customer's digital experience and empowering their employees to excel in their roles while enjoying a healthy work-life balance is what I aim for. I also enjoy inhaling the Rocky Mountain air while spending quality time with my family - Whether that be on ski slopes covered with the greatest snow on earth, mountain biking and dirt biking the hundreds of miles of single track from the Wasatch Back to the Moab red rocks, paddle boarding in the Uinta Mountains or an occasional round of golf thousands of feet above sea level.
Kyle Eastman
Cloud Engineer
I am a software engineer turned cloud engineer after my first run in with Docker and serverless technologies where I found I couldn't get enough of them. Puzzle solving and troubleshooting are what I love best about the work that I do, and having a full picture understanding from UI to DB and the infrastructure that supports it all enables those two things to the fullest. I graduated with a BS in Computer Science from Weber State University, and outside of the cloud you can typically find me still online playing games or tracking down new music to damage my car's audio systems with.
Adan Pineda
Cloud Engineer
I am a software engineer with 12+ years of software development experience. Like many of my colleagues I also eat, sleep, and breath code. Love everything tech from front-end to back-end and can't forget the cloud. When I'm not in front of a computer you will find me hiking, mountain biking, snowboarding or at the field cheering my kids on while playing lacrosse.
Vern DeMille
Senior Cloud Engineer
I've been doing software development professionally since 2004, graduated with a BS of Computer Science from Westminster College. Found very quickly I was bored by doing things manually, and decided to instead make tools to do the thing for me. My development super power is an intense hatred of letting the computer win, so I'll tenaciously face-roll the keyboard until the problem is solved. Love the flexibility and speed of the cloud, and love helping others find the same thing. Tried management, didn't like it. Code Monkey for life!
Carter Howell
Collaboration Engineer
I started my IT career in the Military and have since continued my tenure for 8 years now. I enjoy continuously adding to my knowledge base and aim to provide a high quality experience to all clients. In my spare time I enjoy bike rides with my Fiancé and spending time with our three dogs; Izzie, Korah and Maven.
Amazon Certifications
AWS Certified Solutions Architect - Professional (PSA)

AWS Certified Specialist - Security (SCS)
Microsoft Certifications
Microsoft Certified Solutions Associate (MCSA)

Microsoft Certified IT Professional: Enterprise Administrator (MCITP: EA)
Security Certifications
Offensive Security Certified Expert (OSCE)

CREST Registered Penetration Tester (CRT)

ISC2 Certified Information Systems Security Professional

(CISSP-ISSAP) Information System Security Architecture Professional

ISACA Certified in Risk and Information System Control (CRISC)

Mirantis Certified Professional OpenStack Administrator
Brad Woodward
Principal Security Architect
As a 12 year veteran of the cybersecurity field, I bring offensive security and cloud security architecture expertise to the Observian family. I'm a frequent contributor to the art, having taught at BlackHat, presented at DefCon SkyTalks, and developed several cybersecurity tools and novel attack/defense techniques. When I'm not knee-deep in hackery, I can often be found on a walk through one of Boulder's gorgeous parks, listening to audio books, crushing a pile of tacos, or all three at once!
Microsoft Certifications
Microsoft Certified Professional Azure Fundamentals

MPP Big Data

MPP Program Artificial Intelligence

Azure Data Scientist Associate

Streamsets Associate

Streamsets DataOps
Brian Brewer
Data & Analytics Practice Lead
As a seasoned professional and technology founder with over 25 years experience I managed on boarding and delivery of large cross functional consulting projects to fortune 100 clients, certified partner program data products in the cloud, pioneered leading metadata and search engine technology innovations and contributed to real time media and retail industry data standards. I am very passionate about helping companies "get their arms around their data." In my free time I enjoy taking in nature, country drives, camping and listening to classic music.
Randy Naviaux
Senior Project Manager
Experienced Quality Assurance Manager with a demonstrated history of working in the internet industry. Skilled in Test Automation, Test Management, Software Documentation, Test Planning, and Regression Testing. Strong quality assurance professional graduated from Utah Valley University.
Lukas Gust
Associate Data Scientist
Going on 3 years of analytics experience, currently doing cloud data science consulting. Obtaining my Master in computer science from GA Tech part-time.
Nick Mountz
Software Engineering Intern
Software engineering student currently studying at the University of Utah. Very passionate about engineering and problem solving. Readily found designing and building new (and old) applications. Actively seeks out colleagues to brainstorm and work on new ideas.
Archie Horton
Senior Director - Channel Sales
I'm a US Air Force vet, and have over 25 years of technical, sales, and management experience with technology firms. I live in sunny Charlotte, NC, and when I'm not working, I'm usually spending time with my family (three girls, two son-in-laws, and grandson), hanging with friends, traveling, listening to jazz, or planning the real estate portfolio I want to build.
Jason Forman
Senior Software Engineer
I have always loved seeing bits of code on a screen grow to something I could play with. Starting on a RadioShack Tandy TRS-80 at 10 years old, I learned how to program in BASIC. This led to a lifelong passion to learn systems, how they work, and how to make them more efficient. I am versed in a variety of programming languages including the MERN stack (Mongo, Express, React, Node), Java, C#, MySQL, and Javascript.
Steven Beard
Cloud Engineer
I design and develop secure Enterprise Cloud Solutions to increase company profitability while maintaining a fast deployment/update cycle.
Chad Boulton
Software Engineer
Chad is the name, software is the game!
What we've set out to do
Our mission is to improve the lives of technology professionals, and, ultimately, the bottom line of companies they work for. Using the Cloud can revolutionize the way business is done, but it's not as simple as it can appear. There are hidden pitfalls and common mistakes any organization can make. We've mastered the challenges of cloud-based solutions in an effort to help professionals Do Cloud Better.
Are you passionate about cloud solutions and software improvement?
Join Our Team